Welcome
The holidays are rapidly approaching as the signs of cooler weather are arriving. At the Hill Country Christmas Bureau, we are preparing for Christmas. We begin each year with zero and depend on your donations to help and then clean out that account for the year, giving all we have received. With giving decreased, we hope we can count on you past supporters and enlist new ones. ANY monetary donations are helpful to us, from the smallest to the largest. You can make a monetary donation online here.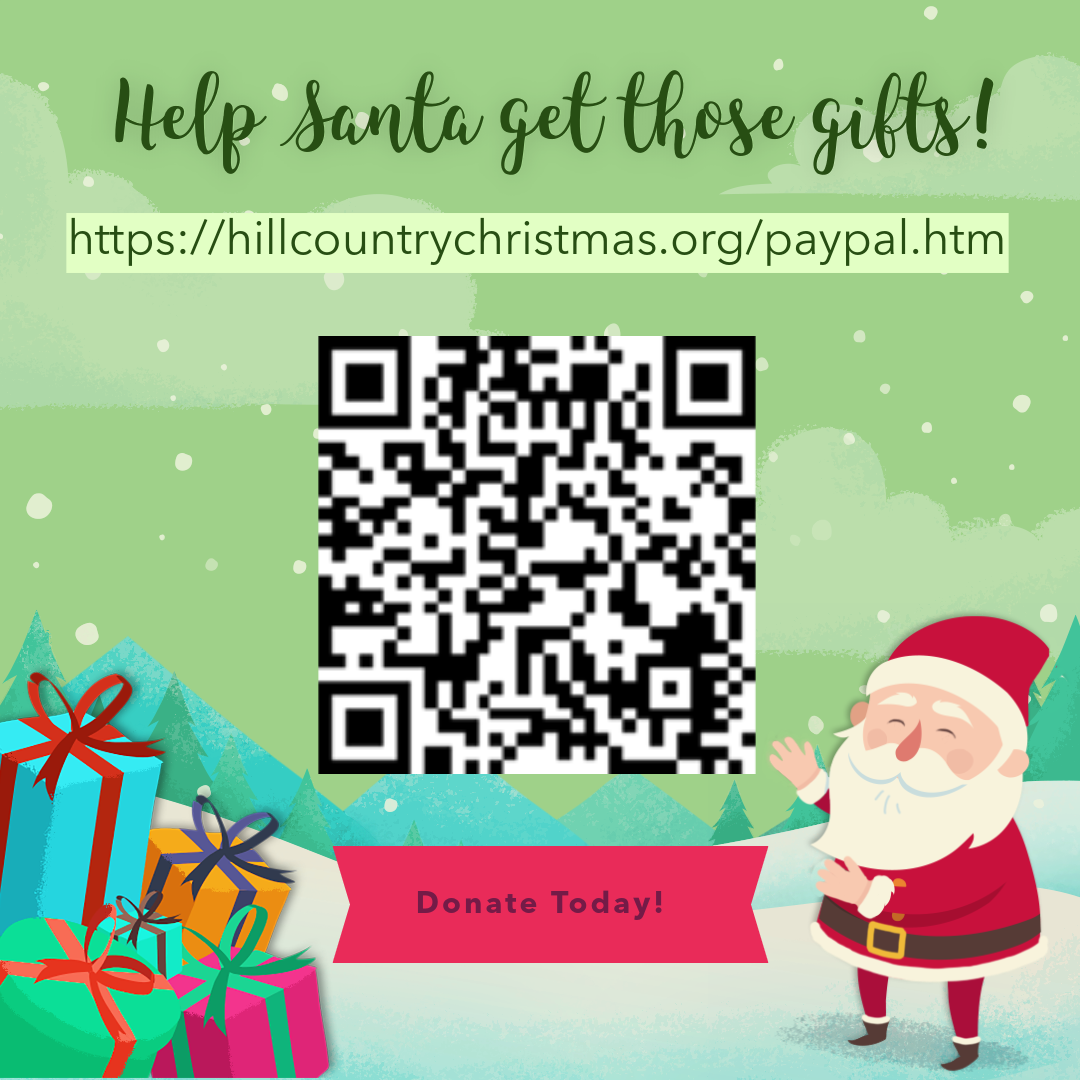 Place your Amazon Donation to us by December 1st so we can get it by Christmas! Thank You!
With inflation on the rise and the lingering effects of COVID causing issues, families continue to struggle to make ends meet, we need your help to bring some Christmas joy! A lot of our donations are typically brought to us through our GIVING TREES in the schools and local churches. Many of these locations are opting to limit the additional exposure having people come in and out of the building that hosting a Giving Tree would bring. So if you don't see a Giving Tree, we are encouraging individuals and organizations to purchase gifts from Amazon, or other merchants online and have your donations sent directly to us. We are always in need of gift cards such as Walmart, HEB, Target (in $25.00 increments, please) to help with Holiday meal items and even diapers for our families, these can be mailed to us as well. Fast food gift cards, in increments of $15, are appreciated by our teens as a special treat.
Every little bit helps us to help families in our community enjoy a brighter and exciting Christmas!
Mailing Address -
Hill Country Christmas Bureau
1624 Shenandoah Drive
Cedar Park, Texas 78613
---
| | | | | |
| --- | --- | --- | --- | --- |
| Services | About Us | Donate | Donate | Contact |